From the bustling Christmas markets in Europe to the humongous tree decked out in tinsel at New York's Rockefeller Center, the spirit of Christmas can be seen all around the world. To celebrate this cheeriest of holidays, we wanted to share with you a collection of photos that showcase how Christmas is celebrated in different countries.
Enjoy this quick holiday-themed travel tour without ever leaving your home this Christmas day!
In Paris, France, the luxurious department stores go all out with their holiday displays. The Galeries Lafayette is especially notable; here, giant pink presents are suspended from the intricate dome above (Photo by David Huang via Flickr).
The impressive Leadenhall Market in London, which has been around since the 14th century, is decorated with Christmas trees and tinsel to get shoppers in the holiday spirit (Photo by Jack Torcello via Flickr).
In New York City, the famous Rockefeller Center Christmas tree has been lighting up the city that never sleeps for over 80 years (Photo by CGP Grey).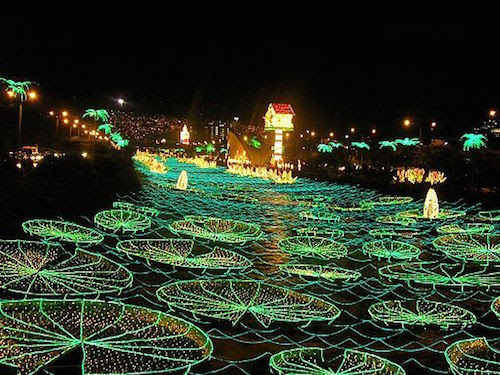 The city of Medellin in Colombia, South America, lights up every year for Christmas — even the Medellin River is set aglow! (Photo by Alejandra Zapata).
As one of two predominantly Christian countries in Asia, the Philippines celebrates Christmas very festively. Here, a vendor sells colorful parol, or Christmas lanterns, a beloved symbol of the holiday (Photo by Keith Bacongco via Flickr).
In Vienna, Austria, famous Christmas markets fill the squares, with vendors selling holiday trinkets, gingerbread, potato cakes and lots of mulled wine to keep shoppers warm (Photo by Otto Schlappack via Flickr).
In fact, traditional Christmas markets are popular all across Europe. Shoppers buy handmade wares at this cute market in the small town of Jena, Germany (Photo by Rene Schwietzke via Flickr).
Every Christmas, the parliament buildings in Victoria, British Columbia, are set ablaze with thousands of lights, ushering in holiday cheer (Photo by Samantha Levang via Flickr).
Do you have any photos from trips abroad during the holiday season? Share them with us on our Facebook page! We'd love to see our clients' Christmas adventures from around the world. Merry Christmas to all!