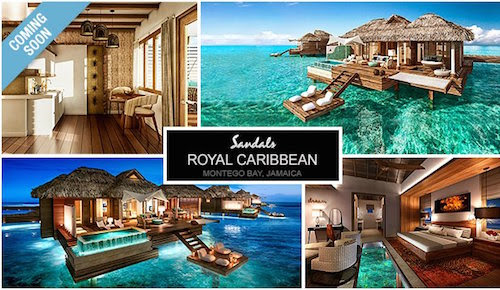 The Sandals brand has consistently pushed the envelope when it comes to what luxury all-inclusive resorts can offer. We caught up with Sandals Business Development Manager Ray Lee to get the inside scoop on what's new in the world of Sandals. It's safe to say that Sandals is bigger, better, and more luxurious than ever! Read on to find out why:
So the latest big news out of Sandals is the over-the-water bungalows in Montego Bay, Jamaica. Can you describe what makes them so unique?
Ray: A lot of people felt like these kinds of suites can only be offered in remote destinations — like Fiji or Bora Bora — and we wanted to prove them wrong. They're like no other accommodation in the world, with infinity pools, ocean views all the way around the suites, soaking tubs, and even a partial glass floor in the bedroom so you can see the sea life below.
Each suite comes with it's own private butler and is attached to a private island by a boardwalk. The architecture, design, use of colors — it's all so detailed. We want to make people feel like they're really out there in the middle of the Caribbean, but with access to modern, luxurious amenities as well.
Plus, since the bungalows are in Montego Bay, they're only a two and a half hour flight from the Atlanta area. The resort itself is just a 12-minute drive from the airport, and you'll be picked up by a private chauffer that's been butler-trained, and the vehicle is stocked with refreshments. It's so convenient — now you don't have to lose two days traveling just to get to your location.
How many are available?
Ray: Five; we've just started booking them now for this year (with stays starting Nov. 15th) and next.
What do you think the single coolest feature is for these suites?
Ray: For me, it's the infinity pool. It looks like you're in the ocean — but you're actually lounging in a refreshing pool, right off the balcony. You get to experience the breeze and smell of the ocean, but with the comfort of reaching for a glass of wine or refreshment right beside you. You can simply step into pool from the bedroom.
How does working with travel agents — like Southern Travel Agency — bring value to the Sandals experience?
Ray: It's all about the personal communication and touch. We're big on our partners experiencing our resorts, and we train our travel partners as well. Booking through a travel agent is absolutely the way to go, since travel is what they do every day — they know where to go, what's the best flight to get there, why the 900 square foot room off the garden is better than the 400 square foot room near the pool, for example. In comparison you can go online and be bombarded by information, and you'll have the pressure of making decision on your own and not knowing if it's the right one. The value of someone doing the research for you is a value you can't really put a price on.
What else exciting or new is going on in the world of Sandals and Beaches?
Ray: We're looking to open a resort in Mexico very soon. After 35 years, we've now decided to go into Mexico, which is so exciting.
Were also focused on adding more amenities to resorts and going to other islands; we're really pushing the lines of luxury at all-inclusives. We've developed off-shore islands where we offer spa treatments, and we're adding more diverse restaurants – all high-end. We're very excited about the future, and our clients should be excited as well.
What's so great about Sandals is that you can have a different experience at each resort, from Grenada to Antigua, but the experience will always be for two people in love — so that couples can grow and experience together. That's our mission.
Ready to start planning your next Sandals getaway and experience everything that's new? Get in touch with our travel experts today!